Baby Rose Gretton born at 11.11 on 1.1.11 in Burton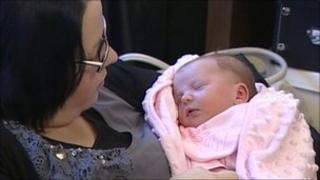 The parents of baby Rose are hoping she will bring them good luck due to the "auspicious" timing of her birth at 1111 GMT on New Year's Day.
Rose Evie Gretton was one of 11 babies delivered at Burton's Queens Hospital in Staffordshire on 1.1.2011.
She was due on New Year's Eve but was born the following day weighing 8lbs 3oz, her mother Kacey said.
Her father Neil said they already considered themselves lucky parents because Rose was born a healthy baby.
Mrs Gretton added: "We were quite lucky really to have a baby born on New Year's Day with the timing being all the ones, so we're hoping she's going to bring us good luck. I'm sure she will."
Midwife Sarah Gudgin said: "All the babies born are special for the parents. They'll never forget will they, New Year's Eve, New Year's Day - but very expensive parties in years to come."