Stoke-on-Trent church leader rejects the 'Big Society'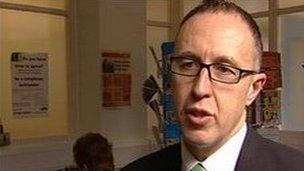 A Christian leader from Stoke-on-Trent has urged the city council to opt out of the government's Big Society.
Lloyd Cooke, from the Saltbox Christian Centre, said a "big society" already existed and said ministers were just undermining communities and faiths.
He said national budget cuts meant they could not follow through on plans to empower voluntary groups.
Stoke-on-Trent City Council said the authority was committed to the Big Society agenda.
The authority is run by a coalition of four different parties.
The council's deputy leader Ross Irving, from the Conservative and Independent Alliance group, said: "I don't want to over exaggerate the reductions in the funding, it will make an issue, of course they will.
"But that's the short-term situation. If we get the economy right then there's going to be more resources for the public sector and the voluntary sector."
But Mr Cooke said: "The Big Society sounds great but the emperor's got no clothes.
"There is no funding really coming through and cuts will mean that the vulnerable people we serve will be left high and dry in many situations.
"The government cuts are hitting Stoke-on-Trent City Council really hard and they're having to pass that on to the voluntary sector."
This week, the prime minister rejected claims the Big Society idea was "too vague".
David Cameron said the government would announce details in the coming week of a £100m transition fund to help groups at a time when local councils were seeing their budgets cut.
Related Internet Links
The BBC is not responsible for the content of external sites.