Stafford Hospital inquiry: Senior doctor 'ignored'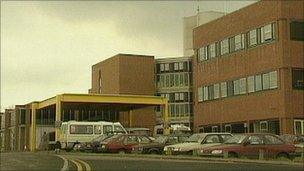 A former consultant at Stafford Hospital has told an inquiry that his concerns about low staffing levels were ignored.
A public inquiry is being held into the higher-than-expected number of deaths at the hospital between 2005 and 2008
Dr Peter Daggett said that he and other consultants had raised the issue with management on a number of occasions.
He said that he felt no satisfactory whistle-blowing system had been in place.
In 2009 NHS watchdog the Healthcare Commission said the hospital's "appalling" emergency care resulted in patients dying needlessly.
The public inquiry into what happened started in November.
Giving evidence on the 46th day of the inquiry, Dr Daggett explained that he had worked as a consultant physician at Stafford between 1982 and 2010.
He said he had formally raised his worries about a shortage of nurses in 2001 but told the inquiry that the problem had been going on for many years.
He said managers ignored his concerns and he was made to feel that it was not his business to criticise the way the hospital was run.
The inquiry was shown copies of the letters he had written.
He said the times that doctors were given an answer about the low levels of staffing, managers told them that there was not enough money to employ more nurses, and that they must do the best with the resources available.
Asked why the concerns did not become public, he said that at that time the primary care trust for the area did not have a significant whistle-blowing policy.
He added that one of the consultants at the time had approached the PCT about the staffing problem, only to be told he should go back to the hospital managers.
Dr Daggett then detailed a meeting that had been held between the consultants and the then chief executive of the hospital, Martin Yeates. He said that Mr Yeates had asked them not to go to the press because it would adversely affect the performance of the hospital.
However Dr Daggett did report the issues outside the hospital and showed letters of concern, written since 2001, to the Healthcare Commission.
The commission, he said, had used them as evidence in their subsequent critical report of the hospital.
Related Internet Links
The BBC is not responsible for the content of external sites.