Stafford Hospital gets new chief executive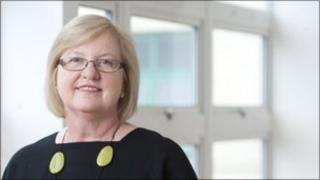 A new chief executive has been appointed to lead Mid Staffordshire NHS Foundation Trust which manages Stafford Hospital.
Lyn Hill-Tout will succeed Antony Sumara in mid June.
She has been chief executive of Great Western Hospitals NHS Foundation Trust for the past eight years.
Mr Sumara is understood to be retiring at the end of his two-year contract after he was brought in to troubleshoot at the hospital.
He oversaw a transformation programme of 100 planned improvements.
A public inquiry is currently being held after a higher-than-expected number of deaths at the hospital between 2005 and 2008.
'Tragedy'
Sir Stephen Moss, chairman of the trust, said he was "absolutely delighted" with the appointment.
He said: "Lyn has the right combination of experience and enthusiasm and she will make sure that Mid Staffs continues to improve patient care."
The appointment, which was recommended by the trust's non executive directors, was approved by the Council of Governors at a meeting on Tuesday.
Ms Hill-Tout said: "I am honoured and privileged to have been appointed as chief executive of Mid Staffordshire NHS Foundation Trust.
"Many lessons have been learned at Mid Staffordshire through failures which should not have happened and will not be forgotten.
"It is a tragedy for those patients, relatives and friends affected, for the reputation of Mid Staffordshire and for the NHS.
"Improvement is underway, although we still have a great deal to do."