Work starts on National Football Centre at Burton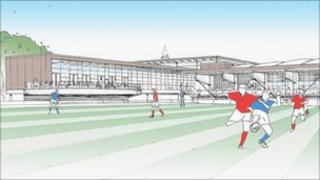 Work has officially begun on the National Football Centre near Burton.
The £100m development at St. George's Park will be the new base for the England side when they meet up for international fixtures.
The site, due to open in the summer of 2012, will also host the Football Association's coach training courses.
Plans for the centre were first made public in 2001 when the site was bought by the FA, but were shelved during the last decade.
FA Chairman, David Sheepshanks, said: "Today is a momentous day for everyone in England who has football in their heart."
"St. George's Park will be the home of FA Learning - in short it will be a multi-sporting destination of choice for all."
It will also be the headquarters for the League Managers' Association and home to a centre for sports medicine and performance analysis
There will be community-use pitches and a multi-sports centre as well as hotels and conference facilities.
The project has created 280 permanent new jobs and is expected to generate between £5m and £6m for the local economy.