Suitcase body murder accused viewed 'extreme porn'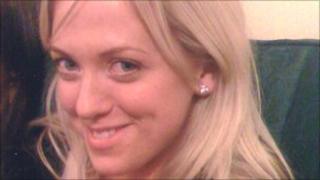 A man accused of murdering a Polish woman he shared a house with viewed extreme pornography on a computer before her death, a court heard.
Sylwia Ciapcinska's remains were found inside a suitcase in Burton-upon-Trent in Staffordshire last September, two months after she went missing.
Tomasz Sobczak, who lived with the victim in the town, is also alleged to have searched the internet for "how to strangle a human being".
The 29-year-old denies murder.
Birmingham Crown Court was told that a computer belonging to Mr Sobczak had also been used to view a webpage giving details of Polish serial killers.
'Hardcore and explicit'
Ms Ciapcinska, known as Magda to friends, disappeared from the home that she shared with her alleged killer, in Ash Street, on 20 July last year.
The court has been told that her body was found taped up inside the suitcase, which was found by the River Trent in Burton by passers by.
Prosecutor Christopher Hotten, QC, said an Acer computer belonging to Sobczak, a factory worker from Poland, was examined after his arrest.
"The internet browsing history (of the laptop) was examined with, we say, significant results," he said.
"In the day or two leading up to the killing, he (Sobczak) had been viewing not only pornography, but also sites relating to strangulation."
It had been used to access "hardcore and explicit" pornography, particularly on 19 July, he added.
"At about nine o'clock on 19 July - the night before the day on which Magda was last seen - the user of Mr Sobczak's Acer computer searched on Google using the Polish which means 'strangling'.
"Shortly afterwards, the user searched a phrase in Polish, which translated into English means: 'How to strangle a human being'."
Other searches found on the laptop looked at how long a person can survive without air, the court heard.
The trial continues.