Close-up of Staffordshire Hoard goes online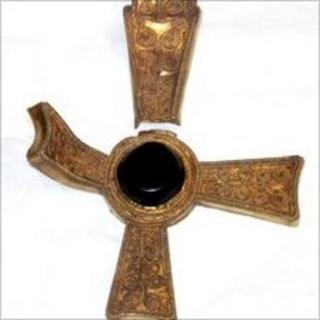 Star items from the the UK's largest find of Anglo-Saxon treasure are being shown in "breathtaking" close-up detail on a revamped website.
Photographs, video and information about the Staffordshire Hoard have been pulled together for the first time on the site.
Over the coming months a gallery of images will be posted to show the artefacts as they are conserved.
The makeover comes one year after the artefacts were saved for the nation.
It is now jointly owned by the Birmingham Museum and Art Gallery and the Potteries Museum after £3.3m was raised to keep it in the area.
The 3,500-piece haul was found in a Staffordshire field in July 2009.
The new-look site has been designed and built by Lichfield District Council, on behalf of Birmingham City Council and Stoke-on-Trent City Council.
Helmet cheek piece
It is supported by Staffordshire County Council and Tamworth Borough Council and includes details of the Mercian Trail Partnership which is seeing all of the authorities work together to use the treasure to raise the profile of the region.
Sections of the site also explore conservation and research processes being used on the hoard, including introductions to the experts who are examining it, what work they will be doing and a blog which will be updated regularly by Stoke-on-Trent and Birmingham teams.
Councillor Martin Mullaney, Birmingham City Council cabinet member for leisure, sport and culture, said: "This is a fabulous site which gives a fascinating insight into the hoard, showing its beauty in ways that haven't been available before.
"For example, star items, such as a helmet cheek piece, are shown in glorious detail, including information about their height, dimensions, material, what we know about them and what they might have been used for - so people can understand the fine detail about individual items."