Staffordshire Police cuts 'protect front-line services'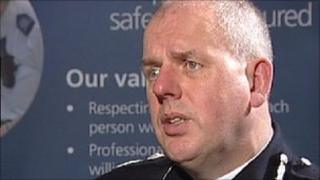 Major changes to Staffordshire Police have been implemented to save money.
Divisions and back-office support have been cut as the force seeks to save £22m over the next two years, despite concerns from the Staffordshire Police Federation.
The restructure replaces four divisions and 21 neighbourhood policing units with nine local policing teams matching local authority boundaries.
Ch Supt Jon Drake said the new model protected front-line policing.
He said: "Residents will continue to have named, locally-based officers focused on dealing with the issues that matter to local people."
Ch Supt Bernie O'Reilly added: "We've protected the front line by reducing administration, overheads and streamlining management."
'Already depleted'
When these plans were announced in February Andy Adams, chairman of the Staffordshire Police Federation, raised concerns that front-line police roles would be affected.
He said: "If these back office functions are an integral part of the organisation they are going to have to be filled.
"The only place they can come from is the front line and our concern is that that front line is already depleted."
Mr O'Reilly confirmed the force was now sharing buildings and equipment with local authority partners "to reduce duplication, save money and further improve".
In addition, from November this year, all officers with more than 30 years' service will be required to leave the force.