Staffordshire Hoard conservation tour sells out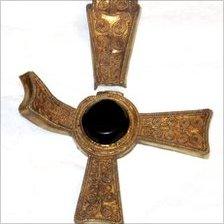 The first tour offering a behind the scenes look at conservation work on the Staffordshire Hoard has sold out.
Organisers say the new tour at Birmingham Museum and Art Gallery is proving to be a big hit.
The session allows visitors to talk to experts who have been working on the world famous Anglo-Saxon treasure.
The first tour, on Wednesday, has sold out and bookings are being taken for tours, which are held once a month, through to the end of the year.
Tours cost £20 per person with the money raised going towards continuing conservation work.
Head of museum operations Simon Cane said: "From day one worldwide interest in the Hoard has been phenomenal, so it's hardly surprising these tours are proving to be such a hit.
"The conservation work is a unique project and the tour offers a unique insight into the techniques used as the experts look to learn more about this fantastic collection."
The Staffordshire Hoard comprises more than 3,500 gold and silver artefacts.
They were found by a metal detector enthusiast in a farmer's field, and are thought to be the high-status booty of an Anglo-Saxon battle.
Artefacts from the Hoard are currently on display at Birmingham Museum and Art Gallery and The Potteries Museum & Art Gallery.
More than 40 items are also set for a regional tour this summer with displays at Lichfield Cathedral, Stafford's Shire Hall and Tamworth Castle.
Related Internet Links
The BBC is not responsible for the content of external sites.