Stoke City legend Terry Conroy recovers from surgery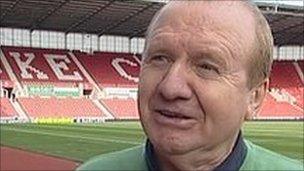 Former Stoke City winger Terry Conroy is recovering at home from an aneurysm doctors said he had only a one-in-10 chance of surviving.
The 64-year-old ex-Republic of Ireland international was attending a St Patrick's Day event when he became critically ill.
He said medics had told him other patients in his condition often died on the way to hospital or during surgery.
They said his residual fitness from football helped him to survive surgery.
Conroy had been out on Sunday 20 March at an event celebrating St Patrick's Day, which fell earlier in the week, when he was taken ill. He said he was also celebrating Stoke City's 4-0 win over Newcastle and Ireland's 24-8 win over England in the Six Nations rugby in Dublin, which were both the day before the party.
"I was just sitting down at the table and felt an excruciating pain in my back," he said.
"I had to go outside to get some fresh air and I began to feel a little bit light-headed.
"The next thing I know, I'm flat out on the ground surrounded by medics."
His central heart valve was leaking and he was taken to a hospital 500 yards away.
"The doctor put it as bluntly as he possibly could, he said 50% of the people who have this kind of complaint will die as soon as this happens, on the way to the hospital. There's a 25% chance that people will die in the ambulance and then on the operating table you might not survive it."
The doctors managed to operate on him successfully.
"They said 'being a sportsman obviously helped you to withstand the pressure of the operation and that's pulled you through'," he added.
The winger was capped 26 times by the Republic of Ireland and played 333 times for Stoke City, scoring the club's first goal in a 2-1 win over Chelsea in the 1972 League Cup final.
Related Internet Links
The BBC is not responsible for the content of external sites.