Keele University sets top level £9,000 tuition fees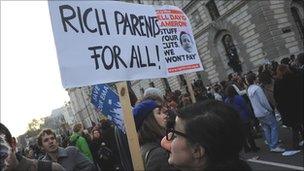 Keele University has announced it intends to charge the maximum £9,000 per year in tuition fees from 2012.
It said the move was needed to maintain the quality of teaching and research in the face of government funding cuts.
Previously the National Union of Students said raising fees could restrict access.
Students from households earning less than £25,000 per year would be eligible for £1,000 discounts and those from low income homes would get £3,000 in aid.
"Together these schemes will support up to one-third of Keele's 2012 entrants," it added.
It said the most disadvantaged 10% of its undergraduate student intake in 2012 would be offered a £2,000 fee waiver and £1,000 cash bursary under a National Scholarship scheme.
The Staffordshire university estimated that 166 students would be eligible for the scholarship scheme and up to 355 students would be eligible for the £1,000 bursaries next year.
The plans have yet to be approved by the Office for Fair Access.
Related Internet Links
The BBC is not responsible for the content of external sites.