End of era for High Street shop Hancocks Pet Centre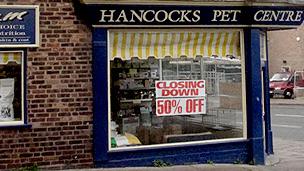 A little bit of retail history in the centre of Stoke-on-Trent is set to disappear after almost 60 years on the same site.
Hancocks Pet Centre has occupied the corner of Broad Street in Hanley since 1952.
Owner Neal Hancock said the firm was moving because the area was likely to be redeveloped as part of plans for a new Central Business District.
He said it will be a big wrench to leave the shop behind.
"It is disappointing to think that we're moving from a premises which my grandfather moved into 60 years ago," said Mr Hancock.
"And my son's just come into the business and he's the fourth generation in the same location."
He said he did not plan to open another shop but wanted to concentrate on wholesale and selling online.