Peak District fire may have been caused by a cigarette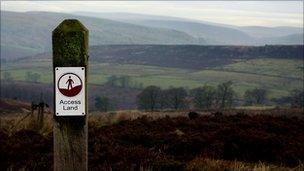 A fire, which destroyed two square miles of heathland in the Staffordshire Peak District, may have been caused by accident by somebody smoking.
Staffordshire Fire Service said it took 15 crews more than 20 hours to fully extinguish the blaze which was spotted on the evening of 9 April.
A spokeswoman said 20 people called to report the fire.
She said it was believed to have been started accidentally due to "careless disposal of smoking materials".
Group manager Rebecca Bryant said: "The fire took hold quickly as the heathland was quite dry following the nice weather recently.
"The fire spread across approximately two square miles however crews managed to prevent it from spreading to any nearby properties.
"This fire has caused serious devastation to the surrounding environment as a large area of the heathland at Ramshaw Rocks has now been destroyed and will take a long time to grow back."
She added the fire "tied up a lot of resources" as in addition to the 15 crews from Staffordshire they had assistance from Derbyshire Fire and Rescue Service, specialised rangers and a police helicopter.
"People need to be aware that smoking materials should always be disposed of safely and appropriately," she said.
"They should not be dropped or thrown into grassland as this can quite easily, as this incident shows, start a serious fire."
Related Internet Links
The BBC is not responsible for the content of external sites.