Criticism over Crewe's £1.7m Lyceum Square revamp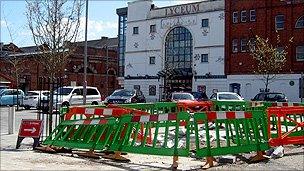 Some residents and market traders in Crewe have criticised the town's revamped Lyceum Square.
Cheshire East Council officially opened it last November after spending £1.7m on its re-development.
Some residents branded it a "waste of money" and said the cafe was still shut, the public toilets often flooded and the paving has not been finished.
The council apologised and said work on existing repairs should be completed by the end of the month.
According to Cheshire East Council, the plan was to build a "vibrant, state-of-the-art pedestrian space", paved in granite, in order to create "a robust, flexible space for parking, market use and events".
But five months after it was officially opened, many locals say what they have got is a poorly-designed car park that still is not finished, which is affecting the town's outdoor market.
Margaret Hughes, who has lived in the town for 60 years, said: "It's an absolute waste of money. I can't see the point of it at all.
"It certainly hasn't improved the area one iota. There was nothing wrong with the square in the first place. It's an absolute disgrace."
Keith Morgan's family have had a market stall in Crewe for the last 80 years. He said: "It's got to be one of the biggest white elephants in Crewe.
"Cheshire East are losing revenue because there's inadequate parking spaces, the traders are losing revenue because of the way it's been set up and people are frightened to come down here because of getting hit by vehicles."
In a statement, the council said: "Work has started on the existing repairs and should be completed by the end of the month.
"The work has been subject to a number of delays which were out of Cheshire East Council's control.
"We would like to apologise for any inconvenience caused by these outstanding repairs and assure local residents and market traders that every effort is being made to complete this work as soon as possible."
Related Internet Links
The BBC is not responsible for the content of external sites.