Alton Towers trip fatal crash coach 'not defective'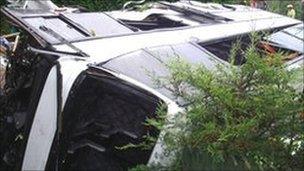 The owner of a coach firm whose vehicle crashed and killed a passenger after a trip to Alton Towers has told an inquest the bus was not defective.
The coach was returning 70 farm workers from a day trip to the Staffordshire theme park on 18 August 2008 when it plunged down a steep embankment.
Piotr Wolski, 26, from Poland, died in the crash.
Five people, including the bus driver, were seriously injured, while another 53 suffered more minor injuries.
The coach had been travelling back to Peterborough at the time.
An inquest into Mr Wolski's death at Hanley Town Hall, in Stoke-on-Trent, heard how Anthea Head, the owner of Decker Bus, told police the company carried out stringent safety checks on its vehicles.
Extracts from her interviews under police caution were read to the inquest by Pc David Burgham.
The officer said she told them each of the vehicles had a regular 28-day safety check, which was scheduled six months in advance.
The drivers also did their own daily inspections of the 10 vehicles, which were referred to as "walk-around checks" and filled in a check sheet even if work was not needed.
Pc Burgham, of Staffordshire Police, said Mrs Head stated that she did not cut corners with repairs and "in her words, she did not penny-pinch".
Mrs Head and her husband Tony, who was the main mechanic at Decker Bus, had recently taken the coach to Scotland where she had driven it, and she was confident nothing was wrong with it, the inquest heard.
In interviews she also said: "She spoke to Richard Lane [the driver] a couple of times as he was parked in Alton Towers car park and there were no problems."
Related Internet Links
The BBC is not responsible for the content of external sites.