Fruit picker's crash death by Alton Towers 'accidental'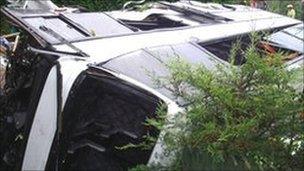 A Polish fruit picker on a trip to Alton Towers died accidentally when the coach he was on crashed down an embankment, a coroner has ruled.
Piotr Wolski, 27, was one of 70 fruit pickers who had gone to the theme park in Staffordshire when he was killed and dozens were injured in August 2008.
Witnesses said the driver shouted "No brakes" before it crashed.
But coroner Ian Smith said although the coach had a "number of defects" he could not say why the crash occurred.
He said: "I'm satisfied that it occurred because of a failure, at least, of part of the braking system."
He added that he was also satisfied problems with the brakes could not have been foreseen or controlled by the driver of the 20-year-old coach if he had used the hand brake when the foot brake failed.
Mr Smith said Mr Wolski, who was on the upper deck, died of crush injuries after becoming trapped under the vehicle.
He said it was "a miracle" only one life was lost. The driver, Richard Lane, survived, but suffered injuries to both legs.
The incident happened not long after the coach left the park and began a "difficult, twisty descent" and Mr Lane found that the foot brake had failed, the coroner said.
"The vehicle continued down the hill, accelerating until it collided with a parked car and careered out of control into the corner of a building and into its garden, where it hit another vehicle and turned on its side," he said.
The inquest has been told by experts that no evidence of brake faults could be found although they did not seem to be working properly just before the crash.
Earlier Anthea Head, the owner of Decker Bus, told the hearing the vehicle was not defective and stringent safety checks were carried out.
Each of their vehicles had a regular 28-day safety check, she said.
Mr Smith added he did not think Mr Wolski would have suffered before his death but described the scene of the crash as "carnage".
Speaking after the inquest, Mr Wolski's mother, Helena, who came from Poland for the hearing, said he had worked at the farm in Peterborough over the summer since 2005 to fund future studies in computer software.
She said they were happy with the verdict but were unsure whether they would pursue any more action against the coach firm.
Related Internet Links
The BBC is not responsible for the content of external sites.