Psychedelic paint job for road in Stoke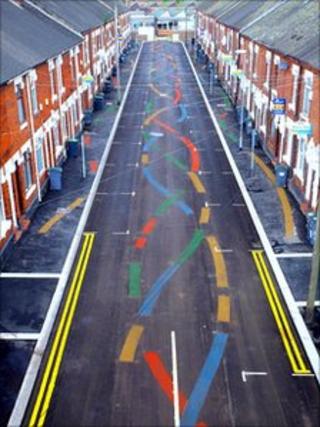 A Stoke-on-Trent street has been transformed with a psychedelic paint job.
Students from Staffordshire University gave Thornton Road an artistic makeover using colourful swirls of tarmac and 15 plaques themed around community life.
The artwork is part of a new £300,000 pedestrian route between the university's two campuses.
It was paid for by Renew North Staffordshire - a partnership set up to reinvigorate run-down neighbourhoods.
Joanne Tyzzer, assistant director of city regeneration at Stoke-on-Trent City Council, said: "We actually wanted to do something for the current students that might encourage them to think of Stoke as their town.
"This particular project is a pilot for a shared space, so it's actually - in addition to the artwork that makes it an attractive living street - to encourage people to use the street."