Jail for Burton suitcase body murderer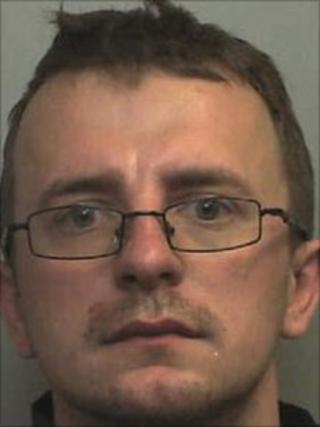 A man who murdered his housemate and hid her body in a suitcase has been jailed for life.
Tomasz Sobczak, 29, of Ash Street, Burton-upon-Trent, was found guilty at Birmingham Crown Court of murdering Sylwia Ciapcinska.
Ms Ciapcinska was last seen alive shopping in Burton town centre on 20 July 2010.
Her body was found in her black suitcase on the Wash lands in Burton on 17 September.
Sobczak, who is married, was ordered to serve a minimum of 20 years in prison.
Speaking after the case, police said Ms Ciapcinska had recently graduated as a school teacher in Poland and arrived in the UK on 2 July.
Her plan was to work for 12 months before returning home and she had been working as a packer at distribution company Amethyst Logistics at Fradley Park, near Lichfield.
Police also said a motive for the attack had not been established.
Det Ch Insp Steff Lungrin of Staffordshire Police said Sobczak, who moved to the UK in March 2010, put Ms Ciapcinska's family through weeks of torment.
"As evidence built against him, he refused to say where her body lay. We never discovered his motive, as he consistently denied killing Sylwia in interview," he said.
"The weight of evidence against him - assembled in a thorough inquiry by the MID - ultimately proved too strong, resulting in his conviction today."
Police found that Sobczak had used Ms Ciapcinska's card to withdraw money from her account on 20 and 21 July although he said she had leant him the card and lied about the money to his wife.
He also placed her mobile phone SIM card into his phone and police also found her possessions - including her passport and laptop computer hidden in a cardboard box in the property's loft.
His fingerprints were discovered on the box's contents and the tape used to package it.
Detectives said he had unexpectedly been off work during the days of her disappearance and had been researching ways of asphyxiation on his computer.
Ms Ciapcinska's family described her as "gorgeous, healthy, clever and well-educated".
"Magda came to England so she could improve her life and fulfil her dreams but instead she met a murderer on her path," they said.
"We cannot understand what kind of human being Sobczak must be to take Magda's right to life away - and in such a cruel way. There is no adequate punishment."