Staffordshire firms win Queen's Award for Enterprise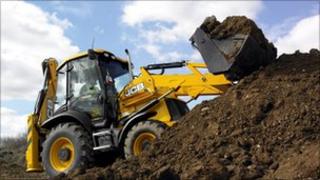 On the same day as the Queen celebrated her 85th birthday, three Staffordshire firms celebrated winning a prestigious award which bears her name.
Portmeirion, JCB and Addmaster have each received the Queen's Award for Enterprise.
The awards were established in 1966 and are the highest official UK awards for British businesses.
Staffordshire digger-maker JCB was recognised for the 26th time - a record for any UK company.
Its TorqueLock system, which cuts fuel consumption and exhaust emissions, helped JCB pick up a top award in the Innovation category.
Stoke-on-Trent pottery firm Portmeirion won in the International Trade category - for a 63% increase in export sales over the past three years.
Profits significantly increased after it acquired rival brands Royal Worcester and Spode in 2009.
Stafford-based Addmaster, which makes additives for plastics and paints, also won an award for International Trade after it achieved its fastest rate of growth since the company started in 2000.