Burials discovery delays Bethesda Chapel restoration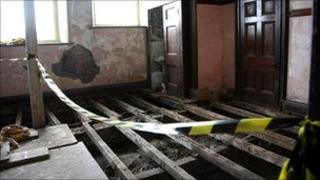 The restoration of Stoke-on-Trent's historic Bethesda Chapel has been delayed by an unexpected find.
Workmen have discovered four burial vaults while repairing floorboards between the pulpit and the vestry.
Inside the vaults lie the remains of some of the local founding members of the Methodist New Connection (MNC).
William Smith, Job Ridgway, George Ridgway and Job Meigh were all instrumental in setting up the MNC in Hanley.
All the men are buried alongside their wives. There are no plans to open or disturb the vaults.
The MNC was formed in 1797 and represents the first major split of the Methodist movement, originally set up by John and Charles Wesley.
Led by Alexander Kilham, the MNC wanted to allow lay people to have more say in the running of the church.
The MNC took root in the Midlands and north of England.
Cathedral of Potteries
In 1798, local people who were sympathetic to the new movement, built a chapel on the site of a coach house in Albion Street, Hanley.
This first incarnation of the Bethesda Chapel seated around 600 people, and in 1811 it was enlarged to seat 1,000.
In 1819, it was extended further and its imposing size led to it being affectionately known as the Cathedral of the Potteries.
John Booth, from Friends of the Bethesda, said: "When I talk about Bethesda, I usually say to people that it's unique because it's got a burial vault inside the chapel.
"It's unusual because not many Methodist chapels have them."
Stone slabs that cover the vaults are too high, preventing workmen from fitting runners on the pulpit, which needs to be moved to make the stage bigger.
Mr Booth also said that this winter's cold weather has caused problems, as it made it more difficult to dry the chapel's ceiling plaster and decorations.
The hope now is that the restoration work will be finished by the end of May, with the Friends of Bethesda then holding their first regular open day on the second Saturday in June.
The renovation work is being funded by English Heritage and the Heritage Lottery Fund.