Staffordshire Moorlands rebranded as Peak District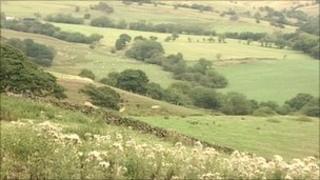 The Staffordshire Moorlands has been rebranded by a regional tourist body as the Staffordshire Peak District in an effort to increase visitor numbers.
Visit Peak District said the new name would help visitors realise the Peak District National Park included parts of Staffordshire as well as Derbyshire.
Some local firms said they were unhappy dropping moorlands from the name as it was part of the community's identity.
Baker Sarah Gayton said moorlands was a historic term that described the area.
The name change does not affect Staffordshire Moorlands District Council which is the local authority that governs the area.
'Own identity'
Ms Gayton, of Taste of the Moorlands bakery in Leek, said: "It's the Staffordshire Moorlands. There's moors on those hills aren't there? It's been called that for years, it's a community's identity.
"We've got our own identity in Leek, we've got a beautiful island there, we've got beautiful shops, we've got a beautiful community.
"Let's keep it as the Staffordshire Moorlands."
A spokesman for the Visit Peak District and Derbyshire tourism body said up to a third of the Peak District National Park lay within Staffordshire, which should be reflected in the area's name.