Deaths figure 'removed from Stafford Hospital report'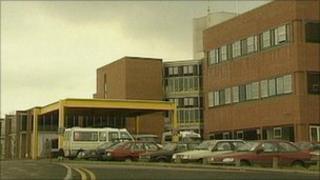 A former Healthcare Commission chairman removed figures from a report showing up to 1,200 more patients than would usually be expected had died at Stafford Hospital.
Sir Ian Kennedy told the public inquiry into failings at the hospital that report author, Heather Wood, was not happy with his decision.
He said the notion of excess deaths "would not be understood".
The inquiry is looking into monitoring by regulatory bodies.
It was ordered after a higher-than-expected number of deaths occurred at the hospital between 2005 and 2008.
Sir Ian told the inquiry that the notion of excess deaths would not be understood and the variation of between 400 and 1,200 deaths would spark a debate on data when he wanted to concentrate on the standard of care at the hospital.
He said: "We were going to run a very grave risk... Was it 400 or 1,200?
"When the message was patients and relatives had been ill served, this is a judgement. I exercised my judgement and I will stand by it."
'Shoot the messenger'
Sir Ian, a barrister, became chairman of the Healthcare Commission when it was taking over from the Commission for Healthcare Improvement (CHI).
He said he had been told that CHI was too independent of Government in its thinking.
The new Healthcare Commission, which graded hospitals, had all the criteria chosen by the Department of Health.
Sir Ian said the then minister of health, Andy Burnham, was concerned about the number of trusts that had been graded as weak or fair and how the media might react.
"He asked strongly that the categories should be revisited and the message made more politically acceptable," Sir Ian said.
He told the inquiry the central problem with the NHS is that it is too deeply politicised.
"When the Department of Health was told about what had happened at Stafford it's reaction was that this was an awful story rather than it being an opportunity to shape up the NHS.
"My experience of the Department of Health is that they have a tendency to shoot the messenger.
"The politicians were most interested in how any story would be received and this was also true of Mid Staffordshire."
The inquiry continues.