Stoke-on-Trent to host the Olympic torch on 30 May 2012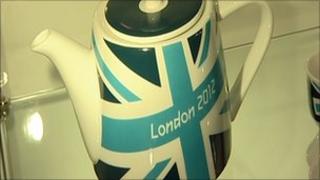 Stoke-on-Trent has been chosen for a "once in a lifetime opportunity" to host the Olympic torch on 30 May next year en route to the London 2012 Games.
The Olympic flame will arrive in the UK on 18 May 2012 and will be carried by volunteers for up to 12 hours per day.
Stoke council leader Mohammed Pervez said it would be "breathtaking" to see.
He said he hoped the torch would inspire young people in the city to embrace the Olympic values of respect, excellence and friendship.
'Take part'
The leader of the Labour-controlled city council said: "This is a once-in-a-lifetime opportunity for the people of Stoke-on-Trent to be part of Olympic history.
"What a breathtaking sight it will be to see the torch carried through the streets of our city. I can't wait to see it.
"I would encourage everyone to take part in some way, no matter how small, to celebrate the Olympic flame coming here.
"People from all backgrounds and ages getting involved in the Games is exactly what the Olympics are about.
"So let's all join in and be ready to stun the world with our awe-inspiring celebrations on Wednesday 30th May 2012," he added.
Up to 16 schools and colleges in the city have been given Get Set network status which guarantees pupils tickets for an Olympic event.
Hillside school in Stoke-on-Trent is the first primary school in the city to achieve the status designed to encourage learning about the Games.
Businesses have also benefited from the Games, with Wedgwood fine-china maker securing a contract to produce official Olympic merchandise.
The Staffordshire-based manufacturer has been asked to produce a selection commemorative mugs, vases and figurines.
A new £400,000 club house at Trentham Lake is also planned for the Games and will be used as a training facility for the British Paralympic rowing team.
Past Olympians
The council said it had worked hard in the past three years to support businesses to win Olympic contracts and to help attract Olympic athletes to the city.
It said in the run up to hosting the Olympic flame it would continue to organise world-class sporting events and community activities inspired by the Games.
The county has produced two Olympic gold medallists.
Imran Sherwani is the son of a Stoke-on-Trent businessman and won a team gold in the Seoul Olympics as part of the Great Britain and Northern Ireland field hockey squad in 1988.
Joe Deakin, a grocer's son from Shelton, won a gold medal for athletics in the three-mile team event in the 1908 London Games.