Cycle ride for Lichfield Cathedral's East End Appeal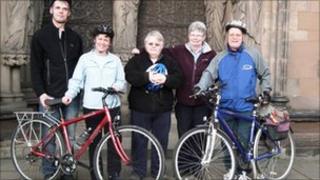 Eight members of Friends of Lichfield Cathedral will attempt to cycle more than 300 miles in aid of the East End Appeal.
But they won't be going anywhere fast, as this sponsored event on Saturday, 18 June, will actually take the form of a static bicycle ride.
The overall distance is the same as the journey from Lindisfarne to Lichfield, via Lastingham and York - all places of significance in the life of St Chad, to whom Lichfield Cathedral is dedicated.
The cyclists taking part are Chris Craddock (Head Verger of Lichfield Cathedral), Rosanne Wilshire (Youth Group Volunteer), Cheryl Baxter (Cathedral Guide and Steward), Helen Betts (Vice Chair of the Friends of Lichfield Cathedral), Trish Insley (Lay Pastoral Minister) and Bryan Ramsell (Lay Member of Chapter).
Historic Herkenrode Glass
Members of the local community are welcome to come and cheer on the group. To sponsor the riders, send an e-mail or call 01543 306121 to contact the organisers.
Encouragement and entertainment will be provided by the Young Voices choir between 10.30 and 11.30. An Anglo Saxon tour will also be available at 2pm.
The East End Appeal is a three-stage project comprising the strengthening of the south and north choir aisles, the replacement of the external stonework of the Lady Chapel, and the conservation of the historic Herkenrode Glass.