Staffordshire private school is signed over to parents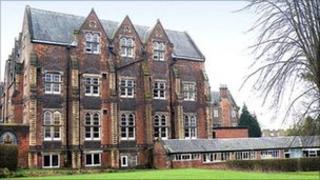 Parents from a Staffordshire private school have won their campaign to save it from closure.
The English Dominican Congregation, which ran St Dominic's Priory School, in Stone, said it could no longer support it financially.
A parents' action group was formed to try to keep it open.
Following emergency meetings a business plan was drawn up and on Thursday the school was transferred to a parent-run charitable trust.
The English Dominican Congregation has agreed to make a financial contribution to the new trust and two of the school's 11 governors will be appointed by the congregation.
The school is leasing and licensing the grounds on which it operates from the congregation.
'Exceptional education'
Michael Hughes, a member of the parents' action group, said: "We are delighted that terms have been agreed securing the future of the school.
"This development will provide great comfort to both existing and prospective parents of pupils that the school has a long-term and vibrant future."
Sister Pauline Burling, of the congregation, added: "I welcome these developments which will lead to the continuation of this fine Dominican school.
"We share the desire of parents to see the school flourish and provide for the future the same exceptional education and guidance it has offered pupils for nearly eight decades."
The Catholic school, which was founded in 1934, is open to all faith denominations taking boys aged two to 11 and girls aged two to 18.