Unusual musical instruments created in Spode factory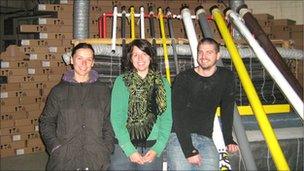 Discarded objects from a derelict pottery factory in Stoke-on-Trent are being turned into musical instruments for an arts performance this weekend.
The former Spode site in Stoke has been out of use since 2008, but for the past few months has been taken over by the art collective re:stoke.
The group has been scouring the disused buildings looking for artefacts as part of a project entitled Reclaim.
The city council, the building's owner, hopes it will boost investment.
The three members of re:stoke - Sarah Nadin, Claire Reynolds and Paul Rogerson - enlisted the help of local community groups to help build the stage and turn the found objects into unusual musical instruments.
The industrial orchestra will feature drain pipes, oil drums, tea pot lids and pottery moulds. The stage area has been decorated with a wallpaper of old invoices.
Ms Reynolds said: "Our project is called Reclaim because it's all about reclaiming all these disused objects from the site and making new and exciting uses for them."
"We've got a cast of almost 40 performers aged between six and 54. So it's an intergenerational cast of dancers, musicians and artists."
The Spode factory buildings were bought by Stoke-on-Trent City Council last year and the authority is currently looking for development partners to regenerate the 10-acre site.
City councillor Kevin Bell said: "There has been 250 years of industry on this site but it's been dormant for a couple of years since Spode closed.
"But this has started the process of bringing the site back to life.
"This project gives us activity on the site, activity brings investment and investment brings jobs."
Related Internet Links
The BBC is not responsible for the content of external sites.