Stafford bishop accuses government over alcohol abuse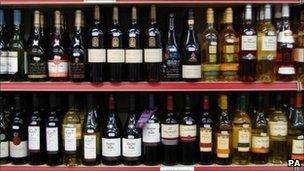 The Bishop of Stafford has criticised the government for "doing little" to prevent alcohol abuse.
The Rt Rev Geoff Annas has described alcohol misuse as "one of the major sins of our time".
Writing in a pastoral letter, published in parish magazines across the Diocese of Lichfield, he called for a "seismic shift" in attitudes towards drinking.
The government has said it is tackling alcohol-related crime "at its source" through a variety of measures.
He said charities were left to tackle the effects of "this drug abuse", with government action not going far enough.
In January, ministers unveiled plans to set a minimum price for alcohol in England and Wales.
They said banning shops and bars from selling drinks for less than the tax paid on them would cut crime and set a "base price" for the first time.
It works out at 38p for a can of weak lager and £10.71 for a litre of vodka.
In the letter, Mr Annas said: "One definition of 'sin' is anything that comes between us and God and makes us less than the person God created us to be.
"Alcohol abuse is one of the major 'sins' of our time - and it is one that governments do very little to prevent.
"Instead, it is left to amazing organisations like Alcoholics Anonymous or in the inspirational O'Connor Gateway Charitable Trust, of which I am proud to be a trustee, to tackle the effects of this drug abuse."
"Binge-drinking" was not the fault of pub and nightclub owners, he said, nor was it down to an extension in opening hours.
"The extension of the licensing laws means that they can stay open later but in reality many [people] now do not even arrive until 11 at night," said Mr Annas.
"Prior to this they drink in their own homes, consuming alcohol which they have purchased very cheaply in their local supermarket or corner shop.
"The government has introduced minimum pricing but the level it has been set is derisory."
A Home Office spokesman said the government was tackling alcohol related crime at its source by taking tough action against irresponsible premises, giving communities a chance to have a say over licensing and allowing councils to charge more for late licences.
"And we haven't just stood by while suppliers let drink be sold so cheaply that it leads to drunken violence, we've taken steps to ensure that by the end of the year the sale of alcohol below cost is banned," the spokesman said.
Related Internet Links
The BBC is not responsible for the content of external sites.