Fires spark debate over steam trains on Churnet Valley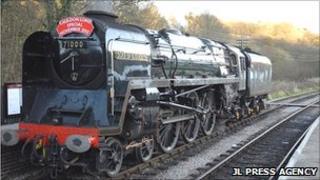 A heritage railway in Staffordshire has been criticised for running steam trains in the dry weather.
Several fires have been started by Churnet Valley Railway (CVR) steam engines on the newly restored Leekbrook to Cauldon Lowe line.
Local farmer Janet Phillips said she had seen a hedge, water pipes and hay damaged by one of the fires.
CVR has apologised and agreed to repair the damage, but insisted it complied with national safety regulations.
'Safe operation'
Ms Phillips has called on the railway to stop running steam trains during periods of dry weather. She believes that it would be much safer if CVR used only diesel trains instead at these times.
"I'm just annoyed that we're running steam trains when we know the weather is so dry and windy. Someone needs to really review when they're running the trains," she said.
Local conservation group, Friends of Churnet Valley, is also concerned about the damage caused by the fires and urged CVR to stop running trains immediately.
The Office of Rail Regulation said its inspectors were satisfied that Moorlands and City Railways - the company which owns the Leekbrook to Cauldon Lowe line - is "running a safe operation" and is doing enough to prevent trackside fires.