Concerns over North Staffs hospital doctor sparks review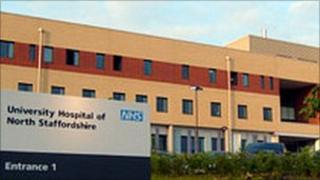 A Staffordshire doctor has been stopped from performing some procedures after concerns were raised about his work.
Dr Changez Khan Jadun specialises in clinical radiology at the University Hospital of North Staffordshire.
The hospital trust has confirmed it has carried out an internal review and commissioned an external assessment.
It is also looking again at the scans of 468 patients to "reassure patients and colleagues". Dr Jadun has declined to comment to the BBC.
A spokesman for the University Hospital of North Staffordshire NHS Trust said: "A doctor at University Hospital is not performing interventional radiology whilst an investigation is under way following concerns raised internally in relation to a small number of patients.
"He continues with other parts of his work."
He added no doctor in this field has been referred to the General Medical Council by the trust.
'Acted properly'
In a statement the trust said concerns were first raised in 2009 about the consultant's work.
It said a review was carried out externally and seven recommendations implemented although the doctor was not required to stop his work.
A second review was conducted 12 months later which showed no concerns but in late 2010 concerns were raised again internally.
At this stage the trust said the consultant was stopped from performing interventional radiology "related to the issues highlighted" although he continued other parts of his work while a review was carried out internally.
Following the review the Royal College of Radiologists was asked to recommend interventional radiologists to carry out an external review of specific cases. This review is ongoing.
The trust said of the 468 scans being re-examined so far 135 had been re-reported with no clinical difference found.
The review of the remaining scans is expected to be completed in the next few weeks.
A hospital spokesman said they would not be contacting those patients whose scans they were re-reporting unless something new came up.
He said: "We are re-reporting the scans as a precaution but there was never any clinical evidence to suggest there was anything wrong."
The statement said: "University Hospital has acted properly on each occasion."