Post office branch in Biddulph remains closed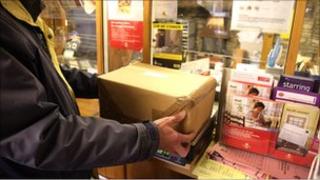 The future of a Staffordshire post office remains in doubt after the shop where it was housed closed down.
Biddulph, a town of 20,000 people, has been without a service since Haldanes - the supermarket chain which operated it - went into administration.
The Post Office says it is working hard to restore services, but no date has been set for it to reopen.
Customers now face a trip to Brown Lees, Biddulph Moor and Congleton after Friday's closure.
No temporary branch
One town councillor, Elaine Baddeley, has even offered to drive local people to pick up their pensions.
Ms Baddeley said: "It is utterly disgraceful, it's reprehensible what these people have done to the townspeople of Biddulph.
"Nobody had any warning at all about it. Not even the staff."
The Post Office says it is waiting for an administrator to be appointed for the supermarket chain, but it is not planning to open a temporary branch anywhere else in the town.
Haldanes was formed less than two years ago after buying several stores from the Co-operative group.
The group has 26 shops in the UK and employs 600 people.