Police 'reasonable' before Stoke-on-Trent woman's death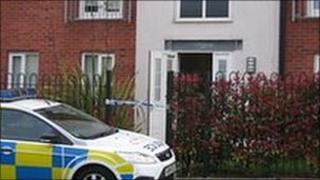 Officers who dealt with previous incidents involving a woman who was stabbed to death acted to "a reasonable standard", the police watchdog found.
Anthony Lawton, of Astbury Court, Westport Road, Burslem, Stoke-on-Trent, was jailed for nine years for killing partner Kerry Ann Day in 2010.
The Independent Police Complaints Commission said an inquiry found a police constable had a case to answer.
Staffordshire Police said it accepted recommendations which were made.
The IPCC said the couple's relationship was known to be "volatile".
'No evidence'
Ms Day, 41, was stabbed at her home in Astbury Court on 25 April 2010.
Lawton, 47, was sentenced at Birmingham Crown Court for manslaughter in April 2011.
The IPCC investigation found officers who dealt with previous incidents in 2010, which included a wounding involving two others the day before the body was found, acted to a reasonable standard.
It said there was no evidence to support a complaint from a man involved in the wounding incident that had officers acted differently, Ms Day's death would have been prevented.
Police treated the history of incidents between the pair largely in accordance with their domestic abuse policy and took appropriate action in February 2010 by referring the case forward for a multi-agency risk assessment, the IPCC added.
The IPCC found a police constable has a case to answer for misconduct for failing to deal with requests from a fellow officer to supply a statement detailing Ms Day's injuries from an incident in January.
'Powers limited'
IPCC Commissioner Amerdeep Somal said: "Police officers did properly attempt to pursue a potential prosecution for assault against Mr Lawton, even though Kerry Ann withdrew her allegations...
"Police powers are limited in circumstances where police bail is breached prior to any charges being brought and there was not sufficient evidence to charge Mr Lawton at the time."
In a statement, the Staffordshire force said a police constable has attended an internal misconduct meeting and received formal management advice.
It added the IPCC pointed out the need for operational officers to be reminded of the importance of completing a DIAL (Domestic Investigation Action Log) form in all domestic abuse related incidents and this has now happened.
The force said it treats domestic abuse "extremely seriously" and strives at all times to maintain the highest standards in relation to the investigation of such offences and the protection of vulnerable witnesses.
The force offered its sympathy to family and friends of Ms Day.