Courtney Holdcroft's mother wants bus routes changed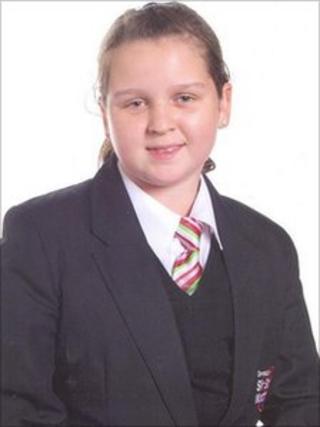 The mother of a girl who was run over and killed by a bus in Stoke-on-Trent has called for changes to the routes.
Courtney Holdcroft, 12, of Larch Grove, Blurton, was hit as she crossed the road near Ormiston Sir Stanley Matthews Academy in Beaconsfield Drive, Blurton, on Monday.
Her mother, Lindsay Roger-Coates, said she did not want anyone else to go through what she is going through.
A campaign to install crossing patrols by the school has also started.
Ms Roger-Coates said she would like the bus routes to be changed so buses cannot go up and down the road.
"I don't know how they do that or where they can put them but if they could just change them, because I would not wish this on anybody and I honestly do not know how I am going to live without her."
Police said Courtney was crossing from the school side of the road when she was run over. The bus was travelling down Beaconsfield Drive, on the other side of the road. Inquiries are continuing into the accident.
Stoke-on-Trent City council said it was waiting to see if the school makes an appeal for the bus route to be changed.
A school concert in which Courtney was due to take part on Thursday has been cancelled.