Stoke-on-Trent City Council launches jobs 'mandate'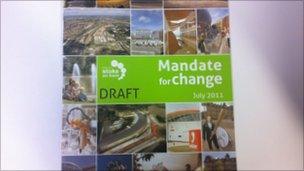 A new strategy aimed at improving Stoke-on-Trent's image has been launched by the council.
The city council said its plan, called Mandate for Change, would promote the city to outside investors as well as developing existing business and jobs.
Now one party has a majority at the council, replacing the four-way coalition, "the time is right" to start the project, the council said.
Businesses and partners are putting forwards ideas to be debated.
In a draft document, the Labour-run council said it wanted to bring in business as well as support and develop existing business and promote independence and healthy living.
A consultation process will take place with businesses and agencies, including the police, fire service and NHS, over the next two weeks.
More than 200 businesses attended the launch of the document on Wednesday, the council said.
John van de Laarschot, council chief executive, said they were working to "change how the council delivers its services" but the mandate was "much much bigger than the council".
"We want to show people that Stoke-on-Trent is a great place to come and bring businesses and that rewards can be reaped from being part of the city," he said.
"Everything else will come in time if we sort the problem of the severe lack of jobs in the city."
In February the council said it had approved plans to cut 710 jobs as it tries to save £36m.
Related Internet Links
The BBC is not responsible for the content of external sites.