Middleport empty homes may be left standing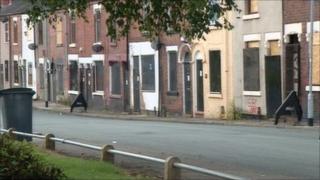 Abandoned homes in a Staffordshire city may be left standing because the area they are in is now a conservation area.
The houses were due to be pulled down as part of a multi-million pound regeneration scheme to improve housing in Stoke-on-Trent.
But funding for the scheme was cut last year by the government.
Now the city council has confirmed the character of the Middleport area of the city must be preserved.
'Heritage issues'
Harmesh Jassal, strategic manager for planning and building control at Stoke-on-Trent City Council, said the council needed to make sure the area was developed sensitively.
He said: "There are heritage issues at stake.
"We have a Grade II listed building nearby so it's really important we get it absolutely spot on."
The nationwide £1bn Pathfinder Housing Market Renewal scheme had already paid for the demolition of hundreds of Stoke-on-Trent and Newcastle-under-Lyme homes before it was cancelled.
The plans to knock down the homes were turned down by Stoke-on-Trent City Council on the grounds it would be "detrimental to the character and appearance" of the area.
Mick Poole has lived in Middleport all his life.
He said he was dismayed at the progress of the plans to improve homes.
"The plans were to knock these (houses) down and get a private builder to build new properties," he said.
"It looked quite nice but all that's by-the-by now because they've run out of money."