Guinness world record for father and son's marathon run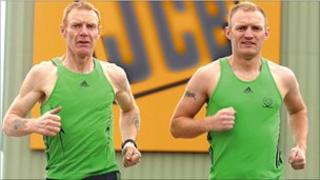 A father and son from Staffordshire have made it into the Guinness Book of World Records after running together in this year's London marathon.
Shane and Kelvin Amos have been officially named the fastest parent and same sex child team to run a marathon.
Their combined times helped them smash the previous record, which had been held by a Japanese father and son since 2009, by 25 minutes.
The new record is an aggregate time of just over six hours.
Shane and Kelvin had contacted Guinness while training for April's race to ask if there was a father and son record.
Shane, 31, from Longton, said: "They came back with a record for fastest parent and child to run a marathon, which was held by a Japanese father and son, and stood at six hours, 28 minutes and seven seconds.
"Straight away, I said to dad 'we stand a shot at that'."
'Personal best'
Guinness World Records have now confirmed the record. A spokesman said: "We'd like to congratulate Kelvin and Shane Amos.
"They are now officially recognised as being the fastest parent and child to run a marathon after recording an aggregate time of six hours, three minutes and seven seconds, 25 minutes quicker than the previous record."
Shane insisted they never really expected to get into the record books as it was only his second marathon. He completed the race in three hours, 12 minutes and four seconds.
"I knew I had to run my own race - if I tried to keep up with my dad's pace I wouldn't have had the legs to finish.
"But we had no communication between us and so I didn't know if he had finished.
"It was a brilliant feeling when I crossed the line because it was my personal best time.
"It was a day I will never forget and an occasion we are both extremely proud of mainly because we are able to say we did it together.
"The marathon is always one of those life goals that you set yourself."
Kelvin, 52, from Blythe Bridge, is the more experienced runner. He finished in a time of two hours, 51 minutes and three seconds.
He said despite this being his 13th marathon, he still loved the unique challenge of the race.
"The feeling of a marathon just blows me away. I think that's why I keep doing them," said Kelvin.
"Once you've done a marathon it makes you look at life a little different."