Titanic Captain Smith statue Hanley move campaign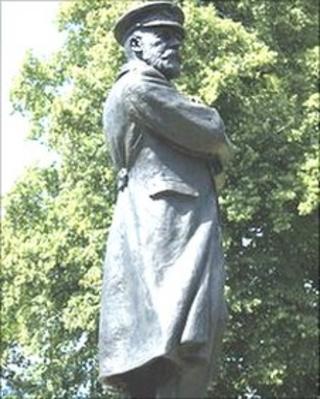 A campaign has been started to get a statue of the captain of the Titanic moved to his home town of Hanley.
The monument to Captain Edward John Smith currently stands in Beacon Park in Lichfield.
It was reportedly put there in 1914 because authorities in Stoke-on-Trent refused the statue, not wishing to be associated with the perceived disgrace.
Now a local man has appealed to councillors to get it moved to the city centre, where Captain Smith was born.
Phil Ball, who is behind the campaign, said: "Lichfield has got no connections to the Titanic; no connections to Captain Smith.
"It was just somewhere to stick a statue."
'Borrow it'
But Mike Wilcox, leader of Lichfield District Council, said that moving the statue was not an option.
"He is loved by the people of Staffordshire.
"I'd be only too happy to welcome any of the people of Hanley or Stoke and I would personally introduce them to the statue."
Ray Johnson from the Staffordshire Film Archive said there were other solutions.
"Borrow it. Let's have it as a guest visitor. Remould it. Let's have a copy.
"Think laterally about it. There are things we can do.
"I don't blame people in Lichfield for wanting to keep it because it is well loved there."
The statue is nearly 8ft (2.4m) tall and was created by Lady Kathleen Scott, the widow of Captain Scott of the Antarctic.