Malcolm Drake death: Compensation over Crohn's disease error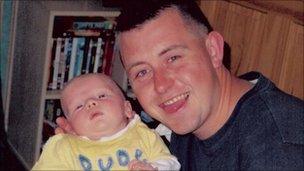 The family of a man from Stoke-on-Trent who died after a life-threatening illness was misdiagnosed as a groin strain has received a substantial six figure settlement.
Malcolm Drake, from Blurton, saw doctors four times before his death on Christmas Day 2007.
The 23-year-old had Crohn's disease but was told he had a muscle strain.
Earlier this year, NHS Stoke-on-Trent admitted that a second opinion would almost certainly have saved his life.
The compensation amount, which was approved at the High Court in Birmingham on Thursday, has been described as a "substantial six figure settlement".
A large portion of the money is to provide for Mr Drake's four-year-old son.
In December 2007, Mr Drake developed an abscess following a perforation in his bowel, as a result of undiagnosed Crohn's Disease - a serious inflammation of the intestines.
He could barely walk when he went to the University Hospital of North Staffordshire three days before Christmas complaining of pain in his groin.
A locum GP working out of hours, and on his first day at the A&E Department, misdiagnosed his condition as a muscle strain and told him to go home.
Mr Drake had tried to seek help at the same hospital a week earlier when he had also been sent home.
The father-of-one died of blood poisoning on Christmas Day.
Mr Drake's fiancée, Sophie Lindop, commented: "I am relieved that our battle for justice is now over, but it doesn't take away the anger I feel that Malcolm should still be alive today.
"Our little boy, Zak, is now four years old. He starts school in a few days time and this should have been a milestone in his life which he should have shared with both his parents.
"Sadly he will never remember his daddy and has been robbed of all the time they should have had together."
The family's lawyer, Lindsay Gibb, said: "This has been a tragic and heartbreaking case.
"For Malcolm's family and his partner, Sophie, this battle for justice has not just been about the money but has also been about a quest for answers and an assurance from the Trust that the same thing will not be allowed to happen to anyone else in the future."
A spokesperson for NHS Stoke on Trent said: "The Trust reiterates its apology and sadness for the shortcomings which led to the death of Mr Drake.
"A settlement has now been reached and we hope that this will help Ms Lindop and her family in the future."
Related Internet Links
The BBC is not responsible for the content of external sites.