Courtney Holdcroft: Petitioners want school crossing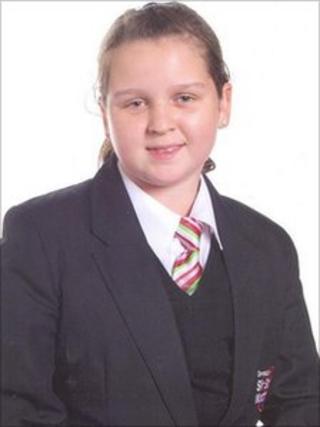 Nearly 1,000 people have signed a petition calling for a crossing patrol to be based outside a Stoke-on-Trent school where a 12-year-old girl was killed.
Courtney Holdcroft was hit by a bus outside the Ormiston Sir Stanley Matthews Academy school in June.
Local campaigner Roy Naylor said the school entrance was near a blind bend and a "bad junction".
The petition will be discussed by the city council at a meeting next week.
Mark Stanyer, the school's principal, said road safety measures were needed - but that a manned crossing was not the complete solution.
He said he wanted to move a bus stop, which is directly outside the gates, and also encourage parents to drop pupils off further from the entrance.
"The whole community was overwhelmed by its love and care for Courtney," said Mr Stanyer.
"What we've got to do is tap into that community spirit and keep reminding people they shouldn't be parking outside school gates."
'Really bad junction'
Mr Naylor, who will represent residents at the council meeting, said he was hopeful they would find a permanent solution.
"It's just a really bad junction," said Mr Naylor.
"People in Blurton just never want another tragedy like this.
"Nobody can come to terms with the fact that a child lost their life outside a school.
"The school crossing patrol is just the one that we hope to get the ball rolling with the council.
"The real one that people would like to see here is a 24/7 crossing of some kind."