Stafford Hospital: Further warning over staffing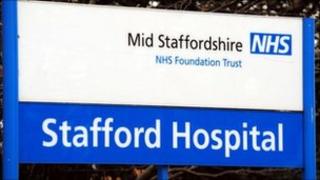 A hospital at the centre of a public inquiry has been given a warning about staffing levels in its accident and emergency (A&E) department.
The Care Quality Commission (CQC) said patient safety could be compromised at Stafford Hospital.
Unannounced visits to the department in September found it was short-staffed, with a lack of suitably qualified or trained nursing staff on duty.
Mid Staffordshire NHS Trust said recent publicity had made recruitment harder.
The CQC has repeatedly criticised the trust over standards and has now issued an official warning notice.
While the issue was over staff absence, the CQC said contingency plans were not sufficient to ensure the safety of patients.
Andrea Gordon, regional director for CQC in the West Midlands and East Midlands said "insufficient action" had been taken to completely address staffing issues.
She said: "We will be making another unannounced visit to the hospital shortly and, when we do, we will expect the trust to be able to demonstrate it has made the required and sustainable improvements.
"If we find enough progress has still not been made, we won't hesitate to use our legal powers to protect the people who use this service."
Those powers include the right to prosecute, close or restrict services.
'Damaging implications'
Lyn Hill-Tout, chief executive of the trust, said the organisation was deeply disappointed to be issued with a formal warning notice "particularly as the CQC have been working closely with us and have told us they believe our department is safe".
"We are also disappointed that they have taken action that has such damaging implications before reviewing all the relevant information."
She said A&E was regularly discussed with the CQC, the primary care trust, the strategic health authority and Monitor.
"Nationally, A&E consultants are in high demand. Despite everyone's best efforts we have been unable to recruit on a permanent basis and the Mid Staffs publicity makes this even more difficult," she said.
The 2009 report by CQC predecessor the Healthcare Commission revealed a catalogue of failures at the trust.
'Routinely neglected'
A public inquiry was called after a higher-than-expected number of deaths at the hospital between 2005 and 2008.
The 11-month inquiry, which opened in November 2010, is also considering the role of regulators.
In February 2010 the CQC told the trust it had "routinely neglected patients".
The following month it said "further urgent improvements" must be made before the trust could be registered without conditions.
In October 2010 the CQC ruled the trust was still falling short in 11 out of 16 key standards.
And in August this year a report found four essential standards for quality and safety were not being met.
The public inquiry called its last witness on Friday, after hearing from 179 people, including patients, staff, relatives, politicians and regulators.
The chairman will publish a final report in the coming months.