Stoke-on-Trent taxi ranks to get extra marshals at weekends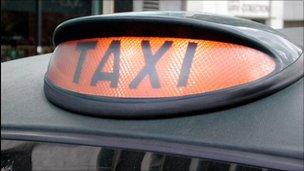 Taxi marshals will be patrolling more ranks around Stoke-on-Trent from Friday evening.
The council scheme to ensure people get home safely after a night out first began last Christmas in Hanley, and is now being extended.
Burslem and Stoke-on-Trent town centres will have increased marshals on Friday and Saturday nights.
The chairman of the city's Hackney Carriage Association Abdul Rauf said it would be "better for all concerned".
As well as making it easier for people to find properly licensed and insured vehicles, it should make hailing a cab more organised.
However, Mark Fogarty, from private Taxi firm City Cabs, said there were too many Hackney cabs.
He said: "I think the marshals are a good thing for directing people in the city to the hackney carriage ranks, but we [private firms] find other areas to pick people up on a pre-booked basis... and in Hanley, we're not being able to get into these spaces now because there are so many Hackneys."
Mr Rauf added: "Hopefully they'll be able to keep more order in the city centre. There haven't been enough marshals, so I think it will only make it better for all concerned.
"Sometimes people are getting into taxis at the back or middle of the queue, and the marshal's job, as I understand it, is to make sure the passengers are going to the first car and that the rank is running in a smooth and orderly manner."
The scheme begins at 21:00 BST.
Related Internet Links
The BBC is not responsible for the content of external sites.