Stoke-on-Trent widow to help others in husband's memory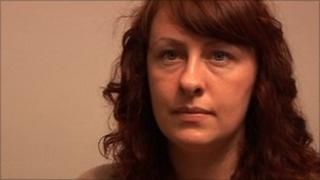 Matt and Charlie Beeson had been married for just three months when he died from a rare form of blood cancer.
The 28-year-old teaching assistant, from Stoke-on-Trent, was unable to realise his dream of qualifying as a teacher.
But his widow is determined to see something positive come out of his death.
Charlie Beeson, 28, said she misses her husband "every day" and wanted to help other families in his memory.
One in 300
Mr Beeson died on 14 August from an extremely rare form of non-Hodgkin Lymphoma caused by a drug he was taking to treat an inflammatory bowel disease.
Mrs Beeson said the cancer, hepatosplenic lymphoma, is a known but very rare side effect of the immunosuppressant drug Azathiaprine which he was taking to treat Crohn's disease.
She now wants to raise awareness about the type of cancer her husband died from while also helping the children at the school where he worked.
Mr Beeson worked at Birches Head High School, in Stoke-on-Trent, where some of his former pupils are supporting Mrs Beeson in setting up a memorial fund and raising awareness about non-Hodgkin Lymphoma.
In particular she wants to raise awareness about a test which is becoming more commonplace which identifies if a patient can take the drug safely.
Dr Jonathan Berg, from Sandwell & West Birmingham Hospitals NHS Trust, is the pathology director at the trust's specialist enzyme testing laboratory at Birmingham City Hospital.
The laboratory tests 200 red blood cell samples every day from patients from different hospitals and PCTs who have been prescribed Azathiaprine to see if it is safe for them to take it.
Dr Berg said: "We've set up a specialist laboratory to measure TPMT. This is the enzyme that you can measure in the red blood cell which tells us if you're ok to start the drug Azathiaprine.
"One in 300 people don't have the enzyme and if you give them Azathiaprine you can make them seriously ill.
"We're increasingly finding hospitals won't start patients on Azathiaprine until they've checked the enzyme status."
Mrs Beeson said her husband was on the drug for seven years before he developed cancer. She said he did not have the enzyme test.
"It's caused by something very, very specialised. We just want people who're in this category to know all about it really," she said.
She added: "I miss him every day and I think I always will.
"There wasn't anything positive about Matt passing away but if I can do something positive that's a really good thing."
She said it had not yet been decided what the fund would be used for, but possibilities included rewarding the hardest working pupil annually or setting up a charity football match at the school.
"He really loved teaching. He was only a few weeks off finishing his PGCE," she said.
"He saw the potential in every child.
"If Matt was here and he'd become a fully fledged teacher I would have spent my life helping him out, making cakes for fetes or whatever it was.
"I think he'd have thought 'This is wonderful' because I'm still carrying out what I would have done as his wife."