Ex-Stoke mayor Mark Meredith agreed Dimensions pool closure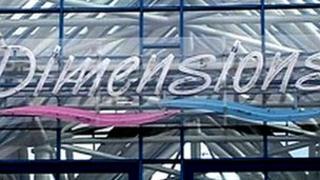 Controversial plans to shut a swimming pool in Stoke-on-Trent were agreed in private by the city's former elected mayor, a BBC investigation has found.
Four years ago, Mark Meredith offered to close the council-run Dimensions Splash Pool in Burslem and pay nearby Waterworld a subsidy for cheaper admissions.
But the plan was eventually scrapped after a public outcry and the row resulted in a £44,000 legal bill for the council after Waterworld's owner, Mo Chaudry, claimed the authority had reneged on the deal.
After an out-of-court settlement was announced, subsequent requests for more details about the negotiations under the Freedom of Information Act were rejected by the city council.
It said that the disruption and impact caused by disclosure would not be in the public interest.
Labour councillors were also instructed to vote against discussing the issue at a recent meeting.
Waterworld discounts
The legal dispute centred on whether or not the council had made a deal with Waterworld.
Mr Chaudry maintained that there had been a contract between the two parties and the council should honour it.
The council insisted no deal had been made.
An investigation by BBC Radio Stoke has found that Mr Meredith, who is now the cabinet member for economic development, did have a series of private meetings with Mr Chaudry four years ago.
Mr Meredith, who at the time was the elected mayor of Stoke-on-Trent, offered to close the council-run leisure centre Dimensions, and pay Waterworld a subsidy so that people could swim there at discounted prices.
It is understood there was no official contract, but an email shown to BBC Radio Stoke reveals that a date was set for the closure of the Burslem pool and the announcement of the Waterworld discounts.
When other Labour councillors asked if the closure of Dimensions had anything to do with Waterworld, Mr Meredith denied that any discussions had taken place with Mr Chaudry.
Members were told that closing the pool would save money and was part of a wider plan for council-run leisure centres.
Police investigation
A number of councillors have told the BBC they were put under pressure to vote in favour of the closure.
Some made formal complaints about Mr Meredith and the current council leader Mohammed Pervez, accusing them of "verbal abuse", "ranting and bullying" and "barracking and mudslinging" at a meeting over the issue.
The botched deal to close the swimming pool prompted a police investigation in 2009.
No charges were brought and the case was dropped, but Mr Chaudry took action against the city council for breach of contract.
Two months ago, the council announced it had apologised to Mr Chaudry for causing "considerable confusion".
The out-of-court settlement cost taxpayers more than £44,000.
BBC Radio Stoke has asked Mr Meredith and Mr Pervez to respond to the claims but has not received a response.