Stafford Hospital public inquiry closing statements begin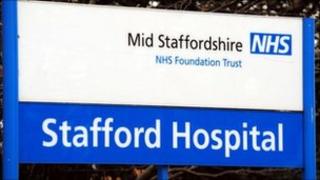 The public inquiry into failings at Stafford hospital has heard closing statements from patient groups.
Action Against Medical Accidents said the hospital was slow to bring in recommendations about patient safety.
It called for the NHS commissioning board to take over responsibility for safety.
Julie Bailey, from Cure The NHS, said: "That's why we believe so many died at Stafford - because the very basic needs weren't being met."
The Stafford resident set up the campaign group after her mother Bella died in the hospital.
'Wholly inefficient'
Cure the NHS spent four and a half hours on Monday reporting on those bodies they claim had failed to protect patients.
The inquiry is looking into monitoring by regulatory bodies after a higher-than-expected number of deaths occurred between 2005 and 2008.
Cure the NHS members told the inquiry Stafford Borough Council's health, overview and scrutiny committee did not know its own powers, let alone how to use them.
The campaigners said the strategic health authority was "reluctant to recognise problems" and they described the Care Quality Commission health watchdog as a "wholly inefficient" organisation.
Ms Bailey from Cure the NHS told the BBC afterwards: "There's got to be one system throughout the whole NHS that ensures quality and safety and I'm afraid at the moment we haven't got that."
In the next two weeks the inquiry will hear from the Department of Health, the former South Staffordshire Primary Care Trust, and NHS West Midlands.
At the end of November the inquiry chairman Robert Francis QC will consider more than one million pages of evidence that have been presented to the inquiry in the past 12 months.