Labour removes video over Julie Bailey death comment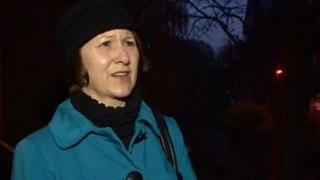 A Stafford Labour Party member has removed an online video in which hope is expressed that an NHS campaigner will die.
Julie Bailey, who highlighted problems at Stafford Hospital, said she was receiving hate messages blaming her for the overnight closure of its A&E unit.
Ms Bailey, from campaign group Cure the NHS, said she had started to receive phone calls as well as abusive emails.
The video has now been taken down.
'Vile campaign'
Labour activist Rolfe Pearce, who posted the video, said comments in the footage had been "tongue in cheek".
The video showed people signing a petition to save the hospital's A&E department.
In it, a man says his wife had said that she hoped Ms Bailey had to go to A&E in Stoke-on-Trent and died on the way.
Ms Bailey said: "This is what happens to whistleblowers in the NHS and that, technically, is what I am.
"People tend to want to protect their own hospital regardless of if it's safe or not."
She added that one of the messages sent to her read: "Disgusted that staff at Stafford Hospital are going to be made redundant as a result of Julie Bailey and her vile Cure the NHS campaign."
Ms Bailey said she would be reporting the abuse to the police.
"I've had lots of anonymous phone calls which happened when I first launched the campaign.
"I used to be up at two or three in the morning on a regular occurrence answering calls until I learnt to turn my phone off."
Referring to the offending comments on the video, Mr Rolfe said: "A gentlemen said it tongue in cheek when we were videoing people and asking them their opinions in Stafford about the closure of A&E.
"The Stafford Labour Group think Julie Bailey has done a fantastic job highlighting the problems but that it is now time for the hospital to move forward."
'Patient safety'
Mid Staffordshire NHS Foundation Trust approved the three-month closure, which takes effect from 1 December.
Trust chief executive Lynn Hill-Tout said the decision had been taken by the board "solely for reasons of patient safety".
"We are very grateful for the support of the local community and would not want to see any individual or organisation blamed for the board's decision," added Ms Hill-Tout.
A separate campaign has prompted more than 7,000 people to sign a petition expressing concerns about the temporary night closure of A&E at Stafford.
Campaigners are worried about the travel time to other A&E departments at the University Hospital of North Staffordshire in Stoke-on-Trent, Queen's Hospital in Burton, New Cross Hospital in Wolverhampton and Walsall Manor Hospital.