Stafford Hospital A&E closes at night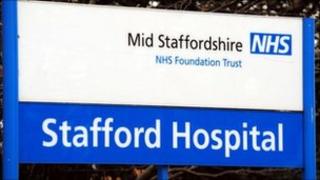 Stafford Hospital workers have closed accident and emergency (A&E) for the night as part of a plan to address staffing levels.
Mid Staffordshire NHS Foundation Trust said the A&E unit would close between 22:00 and 08:00 GMT for three months.
Chief executive Lynn Hill-Tout said it would allow resources to be focused on the daytime.
The trust said it had struggled to recruit qualified staff, partly due to negative publicity.
The hospital is at the centre of a public inquiry, which officially closes on Thursday.
The inquiry is looking into monitoring by regulatory bodies after a higher-than-expected number of deaths occurred between 2005 and 2008.
Its chairman is due to publish his report next year.
The Support Stafford Hospital campaign group said that while it accepted the temporary closure would go ahead, it hoped to see 24-hour emergency treatment reinstated as soon as possible.
More than 20,000 people have signed a petition calling for the emergency unit to be protected.
Patients requiring A&E treatment overnight will be dealt with at neighbouring hospitals.