Edd the dog leaves home in Alsager to take the train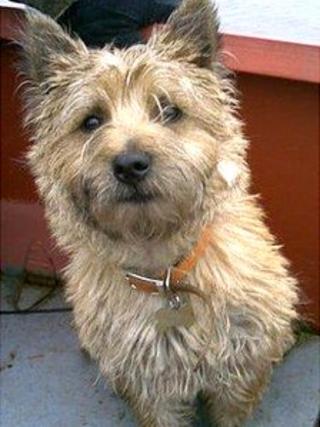 A dog owner from south Cheshire has been reunited with her pet dog after he vanished from her home and ended up on a train.
Edward, a cairn terrier also known as Edd, went missing in Alsager and turned up a few miles away in Stoke-on-Trent.
Owner Erica Smith said that her family had been frantically trying to find him all weekend.
She said she had been contacted by the RSPCA on Monday to tell her that Edd was safe and well.
"He has been to the station to watch people go off on trains, so I'm just assuming he pootled his way up there and hopped on," said Ms Smith.
"I'll maybe pop down to Stoke with him on his lead on the train and thank a few people.
"It could have been worse, the train might have been going to London Euston [station]."
'Bit of a roamer'
RSPCA officer Natalie Blurton said: "I was called out on Saturday evening with a report that a dog had been found on a train.
"I took it to the local vets - who checked for, but couldn't find, a microchip.
"I was going to take it to the city's dogs home on Monday, but after another check we found the chip."
"Edward is Edward - he's a bit of a roamer," added Ms Smith.
"He's had quite a few mishaps in his life - he's lucky to be alive, but he's never gone off anywhere before."