Staffordshire celebrates bicentenary of architect Pugin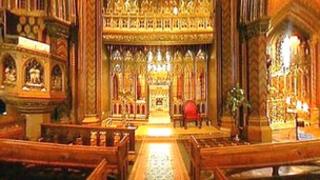 More than 40 projects have been organised in Staffordshire to celebrate the bicentenary of the birth of one of Britain's most famous architects.
Born in 1812, Augustus Pugin is best known for his Gothic Revival style.
He designed the inside of the Palace of Westminster and its clock tower in which Big Ben hangs.
Christened Pugin Land, Staffordshire features 14 buildings by the eminent architect that are still standing in the north of the county.
They include the church of St Giles in Cheadle, Alton Towers and Cotton College.
Hannah Barter, who is in charge of organising the celebrations which start in March, said: "There's a whole plethora of events for people to get involved in.
"Our big drive is to get local people in to explore and experience what's right on their doorstep."