Barlaston Wassail: Celebrating an Anglo Saxon new year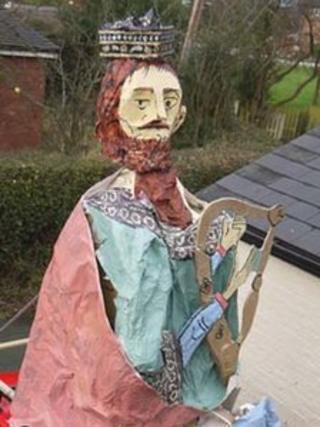 A village in Staffordshire is celebrating the new year with a procession in honour of its Anglo Saxon kings and heritage.
Local historian Tim Cockin has organised a two-mile long, torch-lit procession from Barlaston in Staffordshire across the heathlands.
The circular walk is supported by the National Trust and takes in Anglo Saxon settlements.
It aims to raise money for the Riding for the Disabled Association.
Standard bearers will carry 12 Anglo-Saxon themed banners representing the 12 calendar months delivering wassail - meaning good cheer - as the Anglo-Saxon procession tours around the village.
'First settler'
The walk also involves the recital of Anglo Saxon homilies at various trees along the way.
The procession will culminate at midnight in a traditional folk dance around a century-old tree on Barlaston village green opposite the Duke of York Inn.
Mr Cockin said: "We have been doing this since 2004 and it has been growing year on year with more people taking part all the time."
This year he has been working on a 25ft (7m) high papier-mâché model of Wulfhere the King of Mercia from 657 AD to 674 AD that will oversee the start of the procession at 21:30 GMT.
The 46-year-old author of the Staffordshire Encyclopaedia of local history said he came up with the unusual new year celebration as a way of acknowledging the area's Anglo-Saxon heritage.
'Popular imagination'
"Our village was named after Beornwulf who is believed to have been the first Anglo Saxon settler in the village.
"Nearby there is the Hill-fort palace of Wulfhere who dallied with Christianity but died a pagan and murdered his two sons who converted to Christianity," he added.
Mr Cockin said the discovery of the Staffordshire Hoard had raised public awareness of the Anglo Saxons and captured the popular imagination of the country's residents and beyond.
He said: "I queued for hours to be one of the first people to see the hoard when it went on display in Birmingham.
"It was wonderful. I hope this event can tap into the popularity of the hoard for all things Anglo Saxon."