Stafford Hospital A&E: No guarantee over March target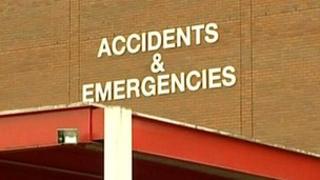 Health bosses have said there is no guarantee that Stafford Hospital's accident and emergency (A&E) night time services will be restored by March.
The department has been temporarily shut between 22:00 and 08:00 GMT as managers try to recruit more consultants and middle grade doctors.
There had been fears that neighbouring A&E units would be swamped over the Christmas holiday period.
But unions said that it had not been as busy as they had expected.
It is claimed that the situation has been helped by the mild weather at what is traditionally a busy time.
'Experienced candidates'
However doubts remain about whether 24-hour emergency treatment can be reinstated by the original deadline, which was set for March.
"I can't really say about whether we'll reopen in March or not," said Maggie Oldham, chief operating officer for the Mid Staffordshire Trust.
"Although I'm very optimistic that the interviews are all lined up. We've a number of, what we feel, to be very experienced candidates who we've been able to attract.
"Once we've had those interviews, we'll be able to let local people know a little bit more.
"Having access to 24-hour services is really very important... so currently we've no plans, and we're not aware of any plans from the primary care trust, to discontinue that."
Ray Salmon, from Unison, said he still had to be convinced that managers would meet the three-month target.
"We'll be analysing their plans; we'll be looking at the adverts put out, and what work they've done to get more consultants on site.
"And if we're not happy with it, then obviously we'll be taking steps with the secretary of state and the regulators."