New fire engine in Staffordshire Moorlands for animal rescue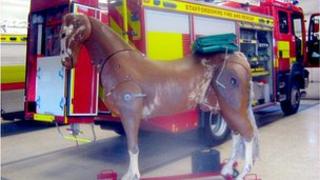 Firefighters in the Staffordshire Moorlands have taken delivery of a new fire engine to help with animal rescues.
The £230,000 machine will be based in Leek and can also be used to fight fires.
The engine has been fitted with specialist equipment designed to lift heavy animals like cattle and horses.
Fire crews have been using a life-size wooden horse - complete with moving joints - to practice with.
'Additional vehicle'
Wayne Bowcock, from Staffordshire Fire and Rescue, said: "We get quite a lot of incidents in the Moorlands involving animals, particularly farm animals, with it being such a rural area.
"Animal rescues can be very long, arduous tasks and so anything to help us rescue the animals involved quickly and safely for both us and the animal is invaluable.
"Having this additional vehicle means that instead of sending one or even two fire engines to animal rescues, we can send this appliance and it has all of the equipment we'll need on board."